Yacht Charter in Turkey
Yacht Charter in Turkey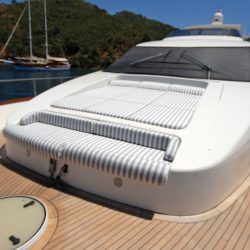 We would like to invite charterers to spend a nice holiday in the wavy Mediterranean on board a yacht charter in Turkey. Holidaymakers who have been to Turkey last year have made up their minds to cruise again in the Turkish Riviera! Some clients have been ten years dealing with us after they experienced and trusted us and after they tasted what the Turkish Mediterranean means. Wonderful scenes cannot be erased from your memory forever! Turkey is a paradise! yacht charter in Turkey this is what holidaymakers say about Turkey!!
Olive trees will open arms welcoming blue waters' devotees who have gathered from all over the world to amuse and enjoy the beauty of the Turkish Mediterranean.
Chartering along with the nice company will add a delicious taste to your trip that you are considering taking in the Turkish Riviera. We have chosen the crews carefully depending on the vessel size and according to the crew experience. We offer itineraries to the best destinations in the Mediterranean that seem to be untouched by a human since he was found and created on this earth.
In fact, as far as your yacht charter Turkey is concerned, you need to consider the time that you are going to charter whether in July and August which are the high season. In other words, these two months are more crowded and sometimes more expensive depending on the vessel you are going to charter on board. Others prefer to cruise in the mid or low season because it is not that crowded and cheaper than other periods of the year! You can call our agents for more information about the yacht charter in Turkey that you are planning for your next vacation.
Turkey is a beautiful and diverse country that has a lot to offer visitors, and one of the best ways to explore its many attractions is by chartering a yacht. With a range of different companies offering yacht charter in Turkey, it's easy to find the perfect boat to suit your needs and budget.
The Turkish Riviera is a particularly popular destination for yacht charter, with its crystal-clear waters, secluded coves, and stunning natural beauty. Marmaris, Bodrum, and Fethiye are all popular destinations along the Turkish Riviera, each offering a unique atmosphere and plenty of things to see and do.
When it comes to choosing a yacht, there are many different types to choose from. Sailing yachts are popular for their simplicity and elegance, while motor yachts offer more speed and power. Catamarans are another option, with their spacious decks and stability making them ideal for large groups or families.
Prices for yacht charter in Turkey can vary depending on the type of yacht, the length of the charter, and the time of year you are traveling. It's a good idea to shop around and compare prices from different companies to find the best deal. Some companies offer all-inclusive packages that include meals, drinks, and activities, while others allow you to customize your own itinerary.
There are many different activities to enjoy while on a yacht charter in Turkey. You can relax on deck and soak up the sun, or try your hand at snorkeling or diving to explore the underwater world. Some charters offer water sports equipment, such as jet skis or kayaks, or you can visit local attractions and explore the coastline by land.
Turkey is a country with a rich history and culture, and a yacht charter is the perfect way to discover its many treasures. Whether you're looking for relaxation, adventure, or a mix of both, a yacht charter in Turkey has something for everyone.