Turkish Gulet for sale
Turkish Gulet for sale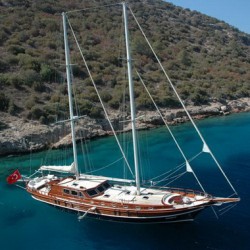 Turkish gulet for sale for centuries Turkish gulets are being built and used for fishing and cargo transportations in shallow waters and nowadays they are being enjoyed for Gulet cruise vacations in Turkey. Lately, These traditional gulets are loaded with modern amenities, water toys, and state-of-the-art technology not to mention these gulets are built with modern materials and the finest boat builders, craftsmanship. High quality and fully airconditioned Turkish gulet for sale or luxury gulet charter turkey, with our comprehensive Turkish motorsailer gulet for sale portfolio of gulet for sale list offering Turkish gulets for sale according to every budget to enjoy Blue cruises in Turkey or elsewhere with crystal clear waters of Aegean and the Eastern Mediterranean sea.
Our Turkish gulets for sale are located either in Bodrum, Marmaris, Gocek, Fethiye or Antalya, no matter how urgent, how far, how exigent you are, we can assure you that we can always propose Gulet for sale or a perfect motoryacht as well as the crew available for you to make your holiday an unforgettable one…
We classify our Turkish gulet for sale in four major categories starting from low standard, lux, deluxe, and ultra-deluxe so that you can decide on a specific category which the quality depends on many related issues as well as their age, construction price, Luxury amenities, water toys and the professional construction techniques that affect the Turkish gulets for sale final price.