Gulets For Sale
Gulets For Sale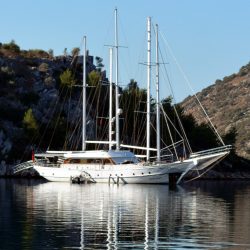 Hundreds of luxury Turkish gulets and gulets were delivered to clients from Australia, Bahamas, France, the United States, Russia, Dubai, Thailand, Egypt, and other countries. They trusted our industrial expertise in this field and they get back to us whenever they need any feedback concerning their motorsailer. In our Turkish gulets for sale department, we can help you buy your luxury Turkish motorsailer/gulets out of your own designation.
If you have already been a gulet owner, then you must have your own preferences that you would like to see Turkish gulets for sale on board of your motorsailer/gulet so that you need to meet our naval engineers in order for them to help you start your plan. Our gulets for sale department provides you with a wonderful portfolio that is the result of our thirty years experience in the blue waters tourism and industry.
Our captains promote buying second-hand Turkish gulet for sale because they are quite seaworthy and deserve your interest. Yet, we highly recommend that you accompany one of our professional captains to have a small test before you pour money into these gulets. We can help you with this if you have serious intentions to buy a luxury gulet for sale our Turkish sales department. We can offer you options that are approximately suitable to your wish list that you would like to see in your gulet.
We recommend that clients who are interested in buying gulets for sale with professional captains before starting the delivery of the gulets. We can help you by letting a professional team accompany you to the boatyard or to the marina where your gulet is moored to test her current condition. For more information about yacht tourism and the motorsailer industry. You can send an email or you can call us via phone so that our agents can get back to you as soon as possible with the best options that suit your preferences and your budget as well. We are here to help you!